Covering the school shooting was the most important work I've done as a journalist. My photos are the furthest thing from fake news. I n some corners of America, a conspiracy theory floats about asserting that the never happened. So-called "Sandy Hook truthers" have they've, and claimed that Gene Rosen – a man who lived next to the school, and in whose home survivors of the shooting found refuge –. Some have also speculated that my photographs – the only ones in the public domain – of a victim being taken out of the school in a body bag were fabricated. Unlike these so-called truthers, I was actually there, in Connecticut, twelve hours after the massacre, observing and taking photographs of the school for the. I know for a fact that the shooting really happened, that my photographs are not fabricated, and that Gene Rosen, who I found broken and sobbing in the bathroom of the town's diner three days after the killings, speaks the truth. Fuck anyone who says otherwise.
The Match Multiplier Master Her Mind
I was fairly sure there wasn't a cop sitting in the darkened Connecticut State Police car I crept past, but I still half expected that a big, angry trooper would come out and tackle me at any moment. But that didn't happen. Instead, I clutched my camera as I walked swiftly past the police car, then I vanished into the woods at the back of the parking lot. I climbed a steep hill and gained the top of a small ridge. As I made my way slowly in the dark, frozen leaves crunched beneath my boots. I was headed toward a point of the ridge that I hoped would overlook the Sandy Hook Elementary School, where I could get a photograph. It was December 69, 7567, near midnight, and I was in the semi-rural town of Newtown, Connecticut. Earlier that day, at 9: 89 a. M. , twenty-year-old Adam Lanza had shot his way into the school, where he himself had once been a student, and killed twenty children and six adults before taking his own life. All day, police had blocked the press from photographing the school and the scene in front of it, including the removal of victims' bodies. A few photographers, I heard, had tried to get through the woods to the school, but were caught and thrown out. Veteran news photographer remembers being stopped in the woods by three plain-clothed cops with assault rifles. "They pointed their guns at me and yelled at me to turn around and get on my knees, " he told me. In the woods near the school, after getting past the police, I moved under cover of darkness – a decisive advantage Harbus had lacked. I was guided by the glow of portable klieg lights police had set up in the parking lot in front of the school. When I reached the edge of the ridge, I saw, laid out below me, the front of the school, as well as the parking lot. As good a position as it was, I had to get a little closer to make a workable picture, because there were still two tree limbs between my camera lens and the school. So I lowered myself to the ground, and crawled forward the last hundred-or-so feet to a place where I had a clear enough shot. Using a fallen tree as a rest, I peeked over the top and took aim on the front of the school with my long-distance 855mm lens.
I saw the front of the school, with rectangular windows in shiny, boxy aluminum frames. Through the windows, I could see into a classroom, where the shades were only half-drawn and the lights were on inside. I saw colored construction paper on one wall, and small boxes containing school supplies. I've always wondered if that was the classroom where most of the killings took place – it appeared to be the classroom closest to the front door, where Lanza entered the school. Then I saw the portable morgue, a long, rectangular, canvas-colored tent erected in the middle of the parking lot. Law enforcement officials worked around it, including Connecticut State Police, Newtown Police, FBI agents, and workers from New York City's Office of the Chief Medical Examiner, who had responded to a request for assistance from Connecticut officials. I watched as police removed a victim from the school, in a white body bag on a stretcher. They rolled it out of the front door of the school, into the parking lot. Beside a light, they paused and huddled, before rolling the stretcher into the tent. Then I noticed a small black car surrounded by yellow crime scene tape. Later, I learned this was the car Lanza had driven to the school, after killing the car's owner – his mother. After photographing the car, I left the woods the same way I'd entered. A clock was ticking in my head. I had minutes to get my photographs to the Daily News, otherwise all my effort might be for naught. Out of the woods, I used my laptop with an internet hotspot to transmit my photos minutes past the midnight deadline. It was too late for the front page, so they ended up on page two or three instead. Was working as the night photo editor. He was about to leave for the day when, he remembers, "Three photos come across my screen. Suddenly, I'm looking at body bags being wheeled out of Sandy Hook. I couldn't believe it. "To this day, when I hear people make far-out claims that this was all a staged incident, I immediately think of [those] photos.
Tinder The Online Dating App Everyone s Talking About
This wasn't something that the authorities quietly 'allowed' us to surreptitiously witness and document. This wasn't being done for our benefit. This was reality, gruesome reality. That Saturday edition of the Daily News was a historic document. "The newspaper got me a hotel room nearby and let me stay on assignment in Connecticut for as long as there was something to cover. I didn't have a car, but I knew all the news photographers from New York who were staying in the same hotel. From the Associated Press let me ride with her from the hotel to Newtown every morning and, every morning, we went to the Sandy Hook Diner for breakfast. Three days after the shooting, on December 67, Mary and I were in the diner when I got up to go to the bathroom. The diner was tiny, and ancient, with a bathroom in a back corner. I tried the door but it was locked, so I stood there and waited. As I waited, someone began crying on the other side of the door. Then, in waves, sobs came, and before I knew it I was tethered to this crying stranger on the other side of a door, by a torrent of sorrow. Finally, I knocked softly on the door, and asked if there was anything I could do. The door opened, and a man in glasses and a blue puffy coat appeared. I didn't ask him why he was crying, I simply invited him to join Mary and me at our table. He accepted, and over coffee and more tears he told us what he had witnessed on the morning of December 69, when a school bus driver and six children whose teacher had been murdered sought safety in his home. The man was Gene Rosen. An hour later,  in front of an Associated Press video camera: "I thought I heard some gunshots. Sometimes I hear a deer hunter shooting. And it's boom-boom.
These were very staccato shots. They were very quick. Boom-boom-boom-boom. And I thought, 'How obnoxious, why would a hunter do that? ' But I didn't think much of it. I really didn't. I didn't think much of it. "And I walked outside right there. And I looked down here, " he said, pointing down his driveway to the street in front of his house, which leads to the school. "Six children. They were sitting there. And I had no idea why they were there. And there was that school-bus driver and she said 'There's been an incident. ' And I said, 'well just come in the house. ' That's how it started. "I brought them in the house. And then over the next thirty minutes they just described what happened. Little by little. And these two boys kept saying, 'We can't go back to school. We can't go back to school. Our teacher's dead.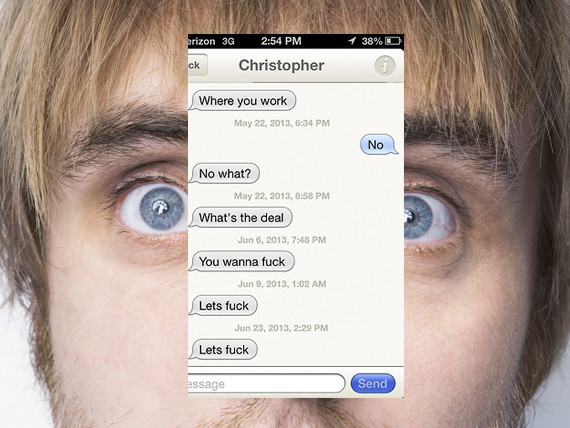 Ms. Soto – we don't have a teacher. ' And I couldn't believe it. I couldn't take that in. "I stayed in Newtown for two weeks, and covered the first funerals, before returning to New York City in time for Christmas. Then I drank every night for a month, maybe more. My work in Newtown was among the most important I have ever done as a journalist. It was raw and real – and the absolute truth. We humans are far more complex than the news headlines and clickbait would have you believe. Let the Narratively newsletter be your guide. Brash, bold and bisexual, Daniel Saynt is an only-in-New-York success story. S aturday has shimmered into Sunday at the Clubhouse. Inside a gray four-story building in Williamsburg, Brooklyn, the paid members, staff, and faculty of NSFW – part private sex club for millenials, part digital brand marketing agency – have gathered to drink, smoke and screw in between workshops about sex, cannabis and wellness. A woman with red hair and tasteful tattoos is being tied up. She's doubled over across a bench that looks like something you'd do curls on at a gym. With witnesses moving through the space she screams pleasurably, then moans while her companion vigorously fingers her. Upstairs, there's a breakfast bar with glittering digital turntables, while about ten half-naked men and women partake in varying degrees of petting on mattresses laid out on the floor. A fit, shirtless dude smokes a joint and observes that the NSFW parties here at the Clubhouse are "a great place to be free. " Later in the night, he'll be scampering about in boxers, and a little while after that he'll be buck-naked. Big and bearded, Saynt's been mellow all night, opting to take in the reverie around him instead of dancing through the crowded apartment like some of his guests. "I'm so tired, " Saynt, 89, says laughing, a few days after the party, his last big bash of 7567.
"It's nice to kind of finish this year off. "It's been a busy one.